Rail Tickets & Passes: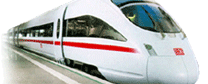 Travel House sells rail tickets and passes. Contact one of our travel consultants to find out more about the many rail options available within Europe and beyond.
Car Rentals:




Renting a car is very popular and a convenient way to see the world. From Europe to New Zealand or places in between, let us provide you with the best rates on Car Rentals, Sports Car Rentals, Chauffeur Drivers, Camper/RV Rentals and other services available.
CALL US FOR AMAZING GERMANY CAR RENTAL RATES!
For additional information, please email us: trips@travelhouse.com